An Ambergris Caye, Belize, Travel Adventure
by Marilyn Miller
We had never considered Belize before our February 2018 trip, but after moving both our home and business, a beach resort was called for! Belize boasts peaceful islands, lush rainforests, archaeological wonders, and stunning wildlife, both on land and in the water. Scot researched great beaches with photographic opportunities and suggested we take a look at Belize. Belize used to be a British colony (British Honduras), gaining independence in 1981, and almost everyone speaks English.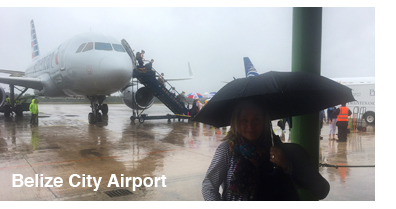 The nonstop flight from DFW to BZE (Belize City) is only 2-½ hours long. We stayed on Ambergris Caye (Island), on the east shore, getting there by way of San Pedro, Belize. Once you land at the Belize City airport, you get your luggage, clear customs and as you exit that door you see signs to connecting flights. These flights to San Pedro run every hour and if you miss one they roll you over to the next flight; the flight takes only 15 minutes. The other option is to take a cab (30-40 minutes) to the water taxi dock, and take the 90-minute water taxi ride to San Pedro. (Sit in the back of the boat for a smoother ride, especially if motion sickness is an issue).
When you arrive at San Pedro you can either take a taxi to your property, or your property may make arrangements to have you picked up either by car, golf cart, or boat.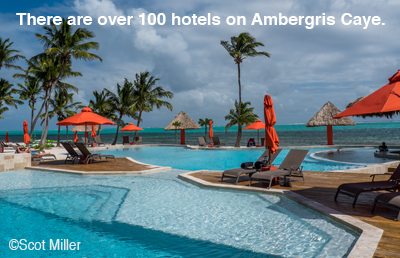 There are over one hundred hotels on Amergris Caye, Belize's largest island, known for its water sports, scuba diving and Caribbean beaches. Off the eastern shore, the Belize Barrier Reef features famed snorkeling and dive sites. We can highly recommend our home base, La Perla del Caribe. Just look at the photos and you can see why we loved it so. It faces east, so you have spectacular sunrises over the Caribbean and it is only a few steps from the water's edge. La Perla has several vacation homes, from 2 bedrooms/2 baths up to 5 bedrooms.
WATCH a La Perla VIDEO produced by Scot Miller.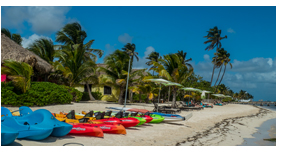 It is really great for couples, weddings, family vacations, reunions, although I would not think it great for small children. We made arrangements for the local grocery to deliver a few staples (bread, eggs, bacon, etc.) prior to our arrival, especially breakfast for the first morning, and that really enabled us to relax the first evening. We like to cook SOME, so I was glad I took some of my favorite seasonings; although we mostly ate out. We walked up and down the beach to eat at different restaurants. Many of the restaurants further up and down the shore (north & south) will come by boat to the dock at La Perla, pick you up for dinner and return you back to La Perla after dinner. It's really special on a beautiful, clear night to ride in a boat in pitch blackness with all the stars out and the shore lit up.
We stayed in Villa Amber, a wonderful 2-bedroom, 2-bath property just steps away from the water.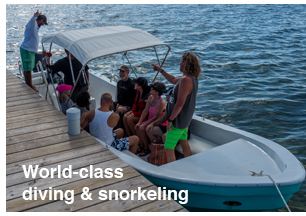 Besides chilling on the beach, with the spectacular view, and the ocean breeze and waves lapping right in front of you, there are many things to do. La Perla has a very nice swimming pool, kayaks and bicycles on the property for your use. The manager can arrange for a great massage, facial, mani or pedi on your property (each property has a great porch/some are screened in). You can also charter a sunset cruise, rent a small sailboat or paddle board and go snorkeling or scuba diving. Belize is considered one of the best places to snorkel and dive in the world. With miles of the pristine 174-mile long Southern Barrier Reef and three of the Caribbean's four atolls, I can see why!
We went on a half-day snorkel trip to Mexico Rocks (just a mile or so north of La Perla); the boat we booked with picked us up from La Perla's dock and the final location was just minutes away. This location is only 8-10 feet deep, but there was plenty to see: barracuda, stingray, sharks, moray eel and countless beautifully colorful fish ~ the neon blue was especially amazing!
Most travel on the island is by golf cart and you can rent a cart by the day or week to get around if you wish, or you can take the regularly scheduled local water taxi right off La Perla's dock to get around. I recommend getting there and figuring out what best suits your travel style once you settle in.
ENJOY!!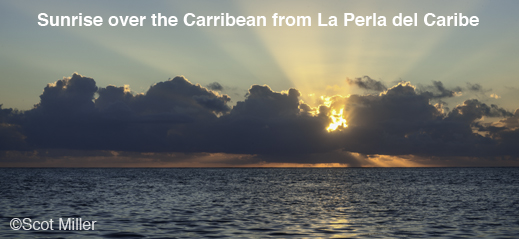 A cautionary note – Although we had a great, fun & relaxing time in Belize and felt welcomed and safe at all times, it is best to note that Belize is a fairly undeveloped country. We recommend only using Belize City as a through point and would not recommend staying in the city, as its dilapidated condition and crime rate do not make it attractive for tourists. We never felt uncomfortable during our stay on Ambergris Caye. The locals we met were extremely friendly and helpful. We have many friends who love Belize and return often. We'll be back, too.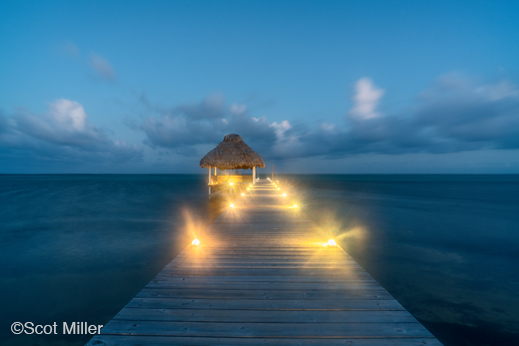 Dock at dawn, La Perla del Caribe
Sun to Moon Gallery • Dallas, TX 75207
Phone 214.745.1199