CHICAGO, ILLINOIS TRAVEL TIPS
by Marilyn Miller
Chicago is FUN! If you're looking for a weekend getaway, we highly recommend Chicago; we rate it in the top 5 big cities to visit. You can scout out low airfares, use public transportation solely to get around (a 3-day unlimited travel pass for just $12 per person), visit great museums, eat in wonderful restaurants and shop the Miracle Mile! What more can you ask for?
We flew DFW-Chicago Midway airport, then easily made our way on the Orange Line of the CTA to our Hotel stop at Wabash & Madison. Our hotel only a few FEET from the train stop; just one reason we love The Silversmith Crowne Plaza (Ten South Wabash Avenue, Chicago IL 60603, 312.372.7696). They have easy accessibility to a plethora of shops, museums and restaurants; some of the larger rooms offer a nice continental breakfast and free internet access, so be sure to evaluate all of the options and see what amenities best suit your needs before reserving a room.
Just around the corner from the Hotel is Pizano's Italian Restaurant; a great place for lunch or dinner (great Caesar salad & pizza margarite).
"Berghoff's" Restaurant, a couple of blocks from the Hotel, has been family owned and operated over 100 years (The Berghoff Restaurant, 17 West Adams Street, Chicago, IL 60603, Ph. # 312.427.3170 ). We had a great dinner (Grilled Salmon over sautéed spinach w/ a citrus sauce and the Mixed Grill – chicken, sausage & ribs w/ a BBQ sauce) and highly recommend this restaurant.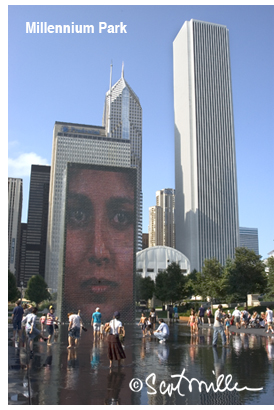 Park Grill in Millenium Park is very lovely and presented us with an excellent dinner. Scot had grilled chicken with hand-cut onion rings; I had filet tenderloin w/ green beans & onions. We shared crème brulee for dessert. Yum!
Millennium Park is only two blocks from the hotel. You must take a walk around the park; be sure to check the newspaper for a free concert in the part, as they have them almost every evening in the summer. Be sure to spend a few minutes at the Crown Fountain "water walls" to watch the kids and the faces.
When we were last in Chicago (late July), we fortunate to be there for "Venetian Night"; a city sponsored event that involves yachts getting all decked out, decorated with lights and people in costume then parading along the lake side, all topped off with a great fireworks display over Lake Michigan. Over 675,000 people attend this special event!
TIPS: Grab a Chicago Transportation Authority (CTA) Map at the Airport train station, as you will not likely see one with as much detail again on your trip.
Be sure to check the internet ( www.cityofchicago.org/specialevents ) before you go AND read the local newspaper once you get there, for neighborhood food or music festivals. When you find an event on the internet, print out a map of the location, so you can figure out how to get to it. We have been to several neighborhood festivals and found them to be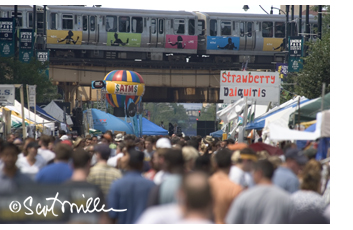 not only fun, but also an inexpensive way to check out local flavor (perogies), grab a cheap lunch, listen to good music and shop local crafters or artist's wares (much better than a souvenir T-shirt!)
Look up all the Chicago museums and what's on exhibit there. Try to decide what you would like to see, then buy a "multi" museum pass package. They have so many different packages that group a variety of museums together it gets confusing; you're better off deciding what you want to see, then pick the package that best suits your wishes. It will save you time (you won't have to wait in lines) and money (package deals are less than individual tickets).
Wear comfortable shoes & layers so you can walk for miles and miles and not have the clothing to deal with the quickly changing temperatures.
Hope you have a Blast!
Sun to Moon Gallery
1515 Levee Street
Dallas, TX 75207
Phone 214.745.1199