REHOBOTH BEACH, DELAWARE
TRAVEL TIPS by Marilyn Miller
Rehoboth Beach is a bit of a flash back to 1950's movie beach scenes; it has white sand beaches, a boardwalk, with gobs of restaurants and hotels full of vibrant beach colors from bright blue, red & gold stripes, like the umbrellas stuck in the sand all along the shore.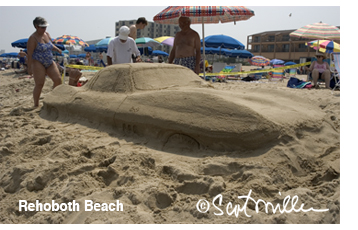 What a great place for a family beach vacation! Philadelphia International Airport is less than 120 miles away and if you shop around, you can find great fares.

From the airport, you can get a rent car, hop right on to I-95 South and follow it all the way to Delaware. Be sure to take Loop 495 which is just the part of 95 that goes around Wilmington instead of through it, avoiding a lot of traffic. Once you get into Delaware,
I-95 becomes Hwy. 1, continuing south to Rehoboth Beach. I recommend staying in Dewey Beach, the next beach south of Rehoboth, because it is a little less commercial, much more intimate and has many restaurants within a comfortable walking distance. Also, there are MANY houses and condos available to rent in Dewey Beach. You can take the "Jolly Trolley", which runs every 15 – 30 minutes (depending on the time of day) for $2-$3 per person each way and get to Rehoboth Beach in just a few minutes without driving (parking is a challenge in Rehoboth Beach!), where there's more action and tons more people.
I can recommend the Atlantic View Hotel's accommodations; it is one block off of Hwy 1, right on the beach, within a few blocks of many restaurants and about one block from a trolley stop.
There are tons of places to try for breakfast and lunch in the neighborhood. I highly recommend "Venus on the Half Shell" just a few blocks from the hotel, for dinner. Venus has wonderful food (fine dining) but is still very casual; ask to sit outside so you can kick your shoes off under the table and stick your toes in the sand, watch the sunset on the bay and nibble on great grub while you sip a glass of wine. Yum! Next time we go, I will try the "Rusty Rudder" (next door to Venus) and then "Big Fish Grill & Market" (in Rehoboth– more commercial, but recommended to us several times) for dinner as well.
One important TIP: Do not try to go TO Rehoboth on Friday, or FROM on Sunday! The traffic looked horrible! The drive during off peak days, to or from the airport can be done in under 2 1/2 hours; I have no idea how long it takes during peak travel days.
Have Fun!
Sun to Moon Gallery
1515 E. Levee Street
Dallas, TX 75207
Phone 214.745.1199