SCOTTSDALE, ARIZONA
Travel Tips by Marilyn Miller
Scottsdale is a great destination for a weekend getaway. Downtown Scottsdale is only 10 miles from the Phoenix Airport, so even if your hotel does not provide a shuttle service (several do; see below) SuperShuttle costs about $12 per person when we visited. Before planning your trip, be sure to check out weather projections; Phoenix has some 120 degree temperatures in the summer & fall.

Once you get to downtown Scottsdale, everything you need is within walking distance.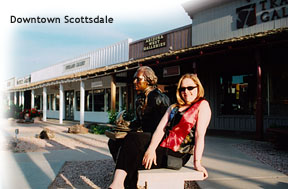 The big attractions are tons of galleries, boutiques, restaurants & spas. Scot & I spent two full days walking the downtown area & exploring.

For Hotel Accommodations, there are three major hotels in downtown: The Ramada, Hilton Garden Inn & The Rodeway Inn. Once you get settled in, you might want to call (if not before you go) for a spa appointment. I visited the brand new "Waterfalls Spa", which was not only lovely & peaceful, but everyone I met was very friendly. And, of course, a short walk away. They offer a menu of Facials (6 options), Body Treatments (3 body scrubs), Microdermabrasion, Waxing, Massage (7 types-including couple massages), Manicures, Pedicures & HairCuts, Styling, etc. Waterfalls Spa, 6939 East Main Street, Scottsdale, AZ 85251 (480.970.5300). There are many other spas in the area. (www.scottsdalecvb.com)

We had several lovely dining experiences. One of the best and our most highly recommended (as Thai Food lovers) is Malee's on Main (480.947.6042) They have a 1 to 4 star rating for hot/spicyness. We each ordered our entrees with 3 stars which was hot enought to cause a heat on your brow, but you can still taste other flavors. If you're not a hot/spicy lover, go with 1 or 2 stars (*Mild, **Hot, *** Very Hot, **** Thai Hot). The food was great!

We also enjoyed the Italian Grotto (3915 N. Scottsdale Road, 480.994.1489) and the service provided by "Leo". He did steer us in the right direction as promised. We had lovely fresh seafood in delicate Italian sauce with pasta, sitting at a table open to the sidewalk, cafe style. It was a bit romantic!

If you go with a large group, Buca di Beppo (3828 N. Scottsdale Road, 480.949.6622) might be in order. They serve "huge" family style meals, that are passed around the table. It has a fun, festive atmosphere and appears to get a little rambunctious later. The decor is wild!

The Grapevine offers a nice lunch selection; we enjoyed a crispy Lavosh (cracker bread) pizza, sitting on the roof top under an umbrella, watching passersby. It was a very light, just right, summer lunch.

One of the best meals was lunch at Fresh Baja, on the corner of N. Scottsdale Road & Indian School Road (by Starbucks). They offer FRESH (really!) Mexican food and tout "no frozen products", "no preservatives", "no msg", only fresh ingredients. And it tastes it!

Depending on your traveling companion, The Rusty Spur might be of interest for a beverage. The building was the original Downtown Bank Building, now a "bar", filled with some interesting local personalities.

Have a fabulous time!
Sun to Moon Gallery
1515 Levee Street
Dallas, TX 75207
Phone 214.745.1199