TEXAS HILL COUNTRY ADVENTURE
From Dallas to Fredericksburg
By Marilyn Miller
We love the Texas Hill Country! I have loved it since I was little, when my family would go every Memorial Day weekend; Scot fell in love with the Hill Country in 1995. Because we have been visiting so many years, we have a favorite route, favorite restaurants, favorite accommodations, a favorite radio station and many suggestions to make it a great trip.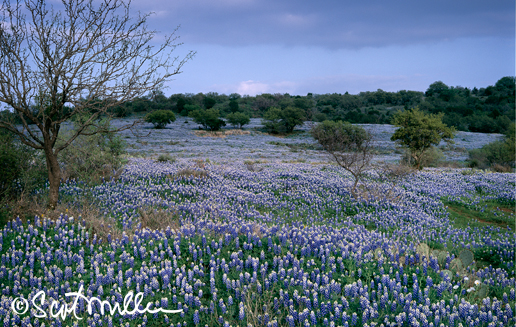 EN ROUTE: We recommend getting to Hwy 281 as soon as possible, for a scenic and relaxing journey (we avoid I-35 like the plague). Below are our suggestions for en route stopovers:
Hico, Texas –Blue Star Trading Company has funky country home furnishings.
Fun can be had anywhere along the way; we stop at any antique shop calling our names.
Hamilton, Texas – This is about the halfway point from Dallas and if you need to stop and get a soda or tea, or powder you nose, the Dairy Queen is on your way out of town (southside). They just finished updating the restaurant; it will be great once they update the restrooms.
Lampasas, Texas – Hwy 281 takes a 90-degree right hand turn here . . . watch for it! McDonald's for $1 fresh brewed iced tea and clean restrooms.
Taco Bell's about the same, but the tea costs a little more. For DQ lovers, there is a Dairy Queen just past Hwy 281's right hand turn. Once you've turned right following Hwy. 281 south, go over a bridge to Firehouse BBQ on the left with decent bbq, but more importantly . . . it's dog friendly!
Marble Falls, Texas – Brothers Bakery & Cafe has great sandwiches, salads and pastries. For KILLER home-style cooking worth waiting in line, go to the Blue Bonnet Café. it's been around since 1929 for a reason.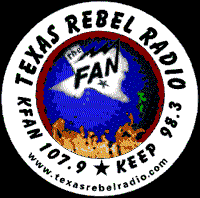 Tune your radio to Texas Rebel Radio (107.9 FM) as you exit Marble Falls... it's a mood changer!
We continue on Hwy 281 south to
Johnson City, then go west on
Hwy 290 to Fredericksburg.
A great source for additional information about Fredericksburg may be found at http://www.visitfredericksburgtx.com/food-wine/

FREDERICKSBURG, Texas – The following recommendations are for places we have first hand knowledge of.
ACCOMMODATIONS:
If you want a classic log cabin, go to Gästehaus Schmidt which offers free reservation services for Texas Hill Country lodging, bed and breakfasts, and country inns. Other lodging reservation services are: 1st Class Lodging Reservation Service and Main Street Bed and Breakfast Reservation Service.
For a really lovely Inn stay, check out Hoffman Haus. The location is great (just off Maine Street in Fredericksburg) and the accommodations are wonderful. This would be a great place for several couples to stay when traveling together; It would be especially fabulous for an intimate adult wedding (note: the Hampton Inn is 1 block away for families w/ children).
If you are traveling with children the new Hampton Inn is centrally located, walking distance to shops, has restaurants all around, and a nice pool to keep kids busy and cool.
Fredericksburg Hill Country Motel – centrally located, walking distance, restaurants around . . . maybe the best pool in town. A nice motel.
DINING:
Breakfast –
Old German Bakery & Restaurant – Just go there, at least once. How often do you get to have the real deal German pastries? 225 W Main, Fredericksburg
Hilda's Tortilla Factory – Classic Tex-Mex, with just-made tortillas, salsa and everything else. Worth going out of the way for. They also serve lunch & dinner. 149 FM 2093 (Tivydale Road), Fredericksburg
Rathskeller Restaurant – For a nice sit down meal with German-Texas influences all over the menu. 260 E Main, Fredericksburg
Lunch –
Sliver Creek – Great casual lunch sitting on the patio in the center of town, with live music. Try the Rueben Sandwich or Sausage Plate.
310 E Main, Fredericksburg
Crossroads Saloon & Steakhouse – On the western side of Main Street. Live music most evenings. 305 W Main, Fredericksburg
Porky's Hamburger & Onion Rings – Best burger in town in a little house on the west side of Main Street. 904 W Main, Fredericksburg
Hondo's – Really good burgers, sandwiches and a nice selection of salads, often accompanied with live music on the patio. 312 W Main, Fredericksburg

The Auslander Restaurant and Biergarten – Authentic Fredericksburg landmark for over two decades – fine German cuisine. 323 E Main, Fredericksburg
The Peach Tree Restaurant – My mother's favorite place; it reminds me of a Ladies Tea House, with good food. 210 S Adams, Fredericksburg
Rathskeller Restaurant – for a nice sit down meal with German-Texas influences all over the menu. 260 E Main, Fredericksburg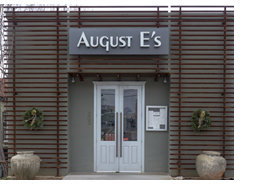 Dinner –
August E's – They declare to serve Nouveau Texas Cuisine and I declare that it's great food, not to mention the elegant décor and lovely service. Be sure to check them out. 203 E. San Antonio St., Fredericksburg 830.997.1585
Hill Top Café – A unique dining experience; in an old gas station, one might mistake it for country dining, but they'll trick you by serving high end food. Everyone should try it at least once. It's worth he drive! 11 miles north of Fredericksburg on Hwy 87, 830.997.8922
Navajo Grill – we have experienced consistently good food, with interesting combinations, all with a southwestern twist.
803 E Main, Fredericksburg 830.990.8289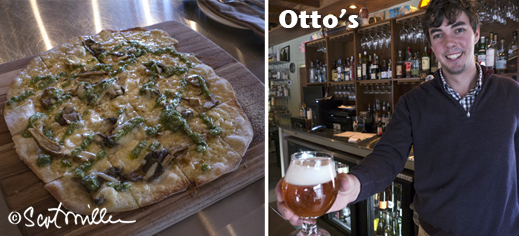 Otto's German Bistro – Upscale, interesting German dining (not you Oma's kitchen). The menu is obviously German, but every item is influenced by local products ~ which is a good thing, because a lot of greatness is available in the Hill Country. Check it out! 316 E. Austin Street, Fredericksburg 830.307.3336 (just behind the Nimitz Museum)
Word has it Otto's will be opening an Ice Haus next door to the restaurant, as soon as they can get all city requirements met . . . sounds fun, huh?
Rathskeller Restaurant – For a nice sit down meal on Main Street with German-Texas influences all over the menu. 260 E Main, Fredericksburg
The Nest - For a nice, romantic dinner, this is for you! It is still Hill Country nice-casual, but the food and service are lovely. Enjoy! 607 S Washington, Fredericksburg 830.990.8383
SHOPPING –
Along Fredericksburg's Main Street you'll find lots of knick knacks & tchotchke shops, but there are also some real gems! Here are my favorites, in alphabetical order, except, I put my favorite first:
Auer Haus – offers home furnishings with Hill Country Vintage flair; they have interesting design combinations, all traditional, but leaning in the Hill Country direction.402 E Main, Fredereicksburg
Der Küchen Laden is one of the best kitchen goods stores ever! If you need it they will have it or they will helpfully direct you. YEA!! 258 E Main, Fredericksburg
Dogologie, for the discerning dog that doesn't quite have everything! Love my dawg!! 148 E Main, Fredericksburg
Double R Drygoods has elegant Traditional Ranch interiors. 237 ½ E Main, Fredericksburg
Leathers with Style – has all things leather; wallets, hand bags, luggage, boots, glasses cases, and so on. I love this place and have helped support them, with purchases over the years . . . still loving my purchases, no regrets! 123 E Main, Fredericksburg
Haberdashery Boutique – A boutique of women's clothing with a modern remake of vintage attire . . . you just have to see it! 203 E Main, Fredericksburg
Remember Me, Too – offers a real mix of antiques, vintage goods, clothing, wall art, jewelry, soaps & scents. 109 E Main, Fredericksburg
Root – specializes in modern womens clothing, footwear, jewelry & handbags. 306 E Main, Fredericksburg
Something Different II – a blend of classic, modern, transitional for comfortable eclectic home furnishings, and full of color. Big Favorite!! 221 E Main, Fredericksburg
VINEYARDS & WINERIES –
We have not taken a vineyard tour in years, and now there are so many wineries, it's amazing. Now there are about a dozen now along Hwy 290 between Johnson City and Fredericksburg . . . and that is where I would start. Many of the Vineyards have special attractions on weekends, like food & live music. You can schedule a limo tour for a few people, or book a bus tour for a large group. Some of the best information may be found at : http://www.visitfredericksburgtx.com/attractions-categories/wineries/
Hope your travels are wonderful & safe, and may the wind be at your back . . . it sure helps with gas mileage!
DAYTRIPS –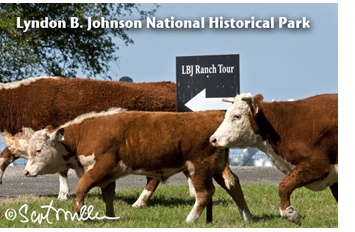 LBJ RANCH & LYNDON B. JOHNSON NATIONAL HISTORICAL PARK – Hwy 290, Stonewall, Texas 830.868.7128 Start at the Visitors Center on Highway 290 by picking up a map; you can even get a free driving permit to drive thru the ranch! Not only is the land beautiful, but you can see the "Texas Whitehouse" up close & personal. And, if you have the kids with you, there are some great learning opportunities because the LBJ Ranch is a working ranch, maintained just as it was in LBJ's time; the cattle are bred to be the same as cattle in LBJ's time. Your kid can become "A Junior Ranger."
LUCKENBACH, TX is about 30 mins from Fredricksburg. Take Hwy 290 East toward Johnson City then Hwy 1376 South to Luckenbach. It won't take long to stop by this "Country Ballad" Town.
Take Hwy 290 to Johnson City, then Hwy 2766 to PEDERNALES FALLS STATE PARK for an opportunity to stretch your legs either hiking or swimming. You get a nice view of some lovely "country", as well. If you are equipped to camp, the Park offers shower facilities, camper hook-ups, walking trails, bicycle paths, interpretive trails & more. For more information or reservations call (512) 389-8900 [M-F 9A-6P according to Texas Parks & Wildlife]
The Old Tunnel Wildlife Management Area accommodates approximately 2 million Mexican Free-tail bats from about March to October (July & August is peak - depending on the weather). The " bat tunnel" was a train tunnel used in the early 1900's. Now, if you wait for sunset in the areas provided with seating, you will see a tornado of bats swirl out of the tunnel, up into the sky & away to find dinner. It is a sight! The Old Tunnel WMA is located in Kendall County, Texas, approximately 13 miles north of Comfort and 11 miles south of Fredericksburg.
Take Hwy 87 North to MASON CITY & FORT MASON, about 40 miles northwest of Fredricksburg. Scot & I found the country roads between to be more heavily covered with bluebonnets than some other recommended areas. Once in Mason, we stopped in the Chamber of Commerce on the square & picked-up some brochures. We enjoyed a "Historic Bluebonnet Drive (April) Wildflower Drive (May)" brochure, that directs you on three different drives (#1 - 31.7 miles / #2 - 15.4 miles / #3 - 44.6 miles - we took this route) with historic notes & scenic river crossing drives.
The Wildseed Farm, just east of Fredericksburg on Hwy 290 is a great place to pick up native seeds.
ENJOY!!
Sun to Moon Gallery • Dallas, TX 75207
Phone 214.745.1199