WALDEN WOODS & WALDEN POND
Travel Tips by Marilyn Miller\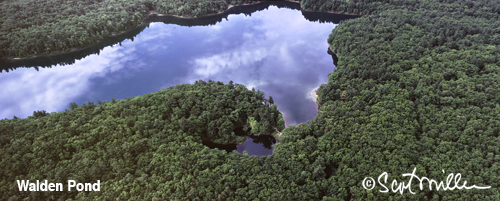 BACKGROUND:
Walden Woods & Walden Pond were made famous by the writings of Henry David Thoreau, born in Concord, Mass on July 12, 1817. Thoreau authored "Civil Disobedience", perhaps the most famous work in American literature, and "Walden". Both writings have remained in print for more than 150 years. Thoreau is also credited with beginning the American conservation movement.
The Walden Woods Project funds the purchase of properties in Thoreau's Walden Woods to keep under conservation for future generations. The Project was founded in 1990 by recording artist, Don Henley. Working in collaboration with The Walden Woods Project, is The Thoreau Society.
Founded in 1941, The Thoreau Society is an independent, non-profit organization, founded to stimulate interest in and foster education about the life, works and philosophy of Henry David Thoreau.
GETTING THERE: (Walden Pond is less than one hour from Boston Logan Airport)
Walden Pond - From either Hwy 95 or Hwy 495, take Route 2 toward Concord, MA, following signs to Walden Pond, you will turn onto Hwy 126. Within one mile, you will come to the parking lot for Walden Pond on the left and pond on your right.
Be sure to stop into The Shop on Walden Pond which is in the new Visitor Center across the street from Walden Pond. They sell Henry David Thoreau books & related items with proceeds benefiting The Thoreau Society. FYI- Several of Scot's limited edition prints are also for sale at the shop.
Concord Chamber of Commerce Information Center will gladly provide you with a number of brochures & maps. From Walden Pond, take Hwy 126 (which becomes Walden Street), past Route 2 into Concord. Turn right on Heywood Street and the visitors center is the tiny white house on the right.
Surrounding Walden Pond are over 7 miles of lovely, scenic and easy trails. There are many additional miles of trails in the surrounding Walden Woods area.
Other ponds within Walden Woods:
Fairyland Pond - From Walden Pond, take Hwy 126, toward Concord, cross Route 2. Just before the road splits (Y-in the road),turn into the parking lot on the right and park. (Be aware that some parking spaces are restricted for Concord residents only, or be towed) Follow the trail through the woods to Fairyland Pond, a magical place, with lily pads, frogs, toads & birds.
Sandy Pond -From Walden Pond, take 126 toward Concord, turning right on Route 2 (1st light), continue about a mile, turning right on Sandy Pond Road. The pond is a mile or so down on the left.
Goose Pond - From the Walden Pond parking lot, k to the back of the parking lot (away from Walden Pond) follow the trails and yowalu will come to Goose Pond.
OTHER POINTS OF INTEREST:
North Bridge - The location of the battle that began the American Revolution.
Author's Ridge - In Sleepy Hollow Cemetery is the location of the grave sites of Henry David Thoreau, Ralph Waldo Emerson, W.E. Cummings, Louisa May Alcott, Nathaniel Hawthorne . . . and more.
DeCordova Museum & Sculpture Garden - From Walden Pond take Hwy 126 toward Lincoln, turn left on Baker Bridge Road (past Baker Farm Rd), and continue a few miles. The museum is clearly marked on your left.
ACCOMMODATIONS:
Best Western - closest chain hotel/motel to Walden Woods.
The Colonial Inn - Hotel accommodations & Restaurant facing Monument Square (on Monument Street in Concord)
The North Bridge Inn - on Monument Street, next door to The Colonial Inn (smaller bed & breakfast in Concord)
The Walden Bed & Breakfast - a few blocks off the town square toward Walden Pond, on Walden Street in Concord.
RESTAURANTS:
Papa Razzi - always busy . . . consistently good pastas, salads, oven pizza & more . . . Italian food with flair. On Route 2 toward Sudbury.
Bringham's Restaurant - For breakfast & lunch . . . basic diner/soda fountain . . . it appears their main attraction is ice cream. On Main Street, facing Monument Square, in Concord.
Chang An's - good, fresh Chinese food. Just off Thoreau Street, near the train station.
IN LINCOLN -
Whistle Stop Cafe - Great sandwiches. In Lincoln Center
MISC -
Concord's city center consists of a variety of shops, including books, clothing, kitchen gadgets, home decor, travel gear, shoes, etc.
The grocery store in Lincoln Center is closest to Walden Pond. Concord's grocery store is larger and just around the corner from the train station, in a small shopping center with a drug store, hardware store, etc.
For beer or wine the Concord "Package Store" is across from the train station.
Sun to Moon Gallery

Dallas, TX
Phone 214.745.1199