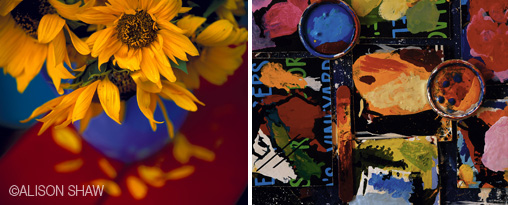 Alison Shaw is an award-winning fine art and editorial photographer who has lived and worked on Martha's Vineyard since 1975. After graduating from Smith College, she took a job at the weekly newspaper the Vineyard Gazette, where she worked as a photographer and graphic designer for nearly 25 years. The island has provided the inspiration and subject matter for much of her photography.
Published books of Alison's work include Raising the Salad Bar by island chef Catharine Walthers (Lake Isle Press 2007), Stone by Design by stonemason Lew French (Gibbs Smith 2005), Vineyard Harvest by Tina Miller (Broadway Books 2005), Finding Martha's Vineyard by island summer resident Jill Nelson (Random House 2005), Vineyard Summer (Little Brown 1994), Remembrance and Light: Images of Martha's Vineyard (Harvard Common Press 1984) and a children's book of poetry Until I Saw the Sea (Henry Holt 1995). Alison's work appears regularly in Yankee Magazine, Martha's Vineyard Magazine and Cape Cod Life. She teaches photography workshops in Venice, Maine, Nova Scotia, Santa Fe and on Martha's Vineyard for the Maine Media Workshops, Santa Fe Workshops, Rocky Mountain School of Photography, and the Alison Shaw Workshops.
Alison's colorful, contemporary and organic prints are visually stunning, beautiful to behold and unique relative to our other photographers' print styles at Sun to Moon Gallery. Very friendly to collectors and non-collectors alike, her vibrant prints hang easily in contemporary spaces. Over 8000 of her original fine art prints are in public and private collections.
Alison lives with her family on the shores of Farm Pond in Oak Bluffs.
We have many of Alison Shaw's wonderful photographic prints in stock and on display at sun to moon gallery. We invite you to come view them.
Sun to Moon Gallery
1515 Levee Street
Dallas, TX 75207
Phone 214.745.1199