ITALY
From our 1999 trip to the Lake Region, Cinque Terra and Rome
by Marilyn Miller
Scot & I flew into Milan's Malpensa Airport, rented a car & drove about an hour to Stresa, on Lake Maggiorie. (See Italy Travel Tips - TIP #1 for driving in Italy)
LAGO di MAGGIORIE - LAKE MAGGIORIE
The Hotel Astoria, (See Italy 99 Accomodations List) recently re-decorated, had great service and a convenient location. At first we wandered through town exploring, finding our own restaurant. Then, we met the hotel bartender, John Luke, who explained that "you get better food and service at restaurants recommended by the hotel or the hotel will not recommend the restaurant again". And that was just what we experienced.
(See - Italy Food Translator)
Stresa is a great town to walk & shop. Put The Grand Hotel les Borromes on your "must see" list, and, if you're up to it, have a famous Hemmingway Martini at the hotel bar.
We drove around Lago di Maggiorie, stopping in Baveno for lunch on the boardwalk, then on to Verbania and Intra. In Intra we stopped, parked and wandered through a street "market", which had great fun "stuff" for the kids (cool glass rings for our niece).
The Borromean Islands are a must see! These tiny islands have been owned by the Borromean Family for centuries. One can purchase an all day ticket on the regularly scheduled ferry service, so you can come and go whenever you want, staying however long you want at each island and going in whatever order you wish. We had a "learning experience"; we paid to be shuttled between the islands by locals (dressed as "captains" hanging out in front of the ferry ticket booth). These gentlemen tell you when and where you will be picked up. The Borromean Islands: Isola dei Pescatori (a quaint fishing village), Isola Bella, which is beautiful (w/ wonderful Italian Gardens and needs the most time) & Isola Madre with lovely English Gardens.
In order to see the countryside & the lovely lake just to the west, we drove to Lago di Orta, via the Autostrada, but enjoyed the winding & scenic back roads on the return.
LAGO di COMO - LAKE COMO
Pick a route - north, northeast along Lake Maggiorie's edge, to Lucarno, Switzerland, turning south to Lugano, Italy, along the west side of Lake Como; then due east to take a ferry from Menagio across the lake to Bellagio on the east side of the lake . . . . Beautiful!
What an adventurous route . . . tiny roads (one way sized roads with two-way traffic). One has to slow down to peek around a building to look for oncoming vehicles . . . Along the way we found a restaurant on the side of the road, "Ristorante Il Crotto Del Lago", stopping for a fabulous lunch with wonderful-kind people. Picture it - Sunday afternoon - around 3 pm - only Italian families in the restaurant, celebrating family events (birthdays - 1 year old, engagements, etc) and they have been there since noonish, but have not yet had the last course (and they don't finish until we do). We are the only "non-locals". It was a great!
In BELLAGIO, we stayed in The Grand Hotel Villa Serbello. It is truly grand! Ours was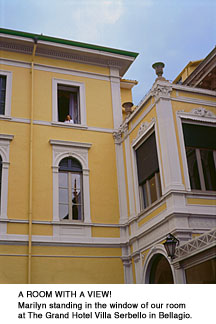 lovely room with a roof top patio over looking the garden and lake. This hotel is considered one of the finest hotels in Europe. Two favorites: fabulous bed linens (100% linen) and a wonderful classical trio (violin, bass & piano) playing in the inner lobby in the evenings!
A great alternate is the Hotel du Lac. They have lovely rooms and very good restaurants - a more casual street front restaurant and, in the evening, the Terrace Restaurant on the 2nd floor looking out over the lake & lights.

We had the most incredible food and wonderful service at the "Restorante Bilacus". The food was very "fresh", flavorful and reasonably priced. We could have dined here many times. We both highly recommend this restaurant.

As usual we had the hotel's breakfast, then wandered the streets slipping in and out of wonderful speciality shops: handmade olive wood peppermills, beautiful handpainted pottery, hand bags, the latest fashions in clothing, regional wine, olive oil & basalmic vinegar - what fun!
LAGO di GARDA - LAKE GARDA
On to Lago di Garda, southeast to Bergamo, stopping at the walled city, CITTI ALTA, for lunch with a bunch of college students. (We found what turned out to be a popular hang out - Pub dell' Angelo). The walled city on the hill is full of wonderful architecture, cobbled roads, and darling shops. Fun to wander through.

Then we took the A4 (Autostrada) to Deserrano del Garda & up the east side of Garda to Torboli, checking into the "Residence Torbole". Torboli, the windsurfing capital of Europe, was just rolling out the carpets for the season. Our hotel consisted of mini apartments, with small kitchens, large balconies and a beautiful view of the lake surrounded by mountains. We purchased a few essentials in town - bread, meat, cheese, coffee, water & wine. Most hotels serve breakfast, but ours had just opened for the season, so it was not yet fully staffed.

The magnificant Dolimites are a day trip away from Torboli. However, we hit a snow storm enroute and had to turn back (without snow chains or snow tires). The land just west of this region consists of beautiful, lush green rolling hills of farm land.

Our dinner of Pomodoro i Mozerella, Insalada Mista, Goulash & Griglia Trota, at the Hotel Aurora, was very lovely. (Tomato & Mozzerella, Green Salad, Mixed Vegetables & Grilled Tout) Trout is very popular, very fresh and excellent, of course, in this lake region!
CINQUE TERRA - The Five Lands
From Torboli we drove south to Trento, then took the A22 (Autostrada) south through Verona to Modena, then A1 west to Parma, and the A15 to La Spezia. We then took back roads (SS1 North) toward Genoa, but turned off at S. Benedetto for gasoline. Here we hadone of the best meals of our trip at "La Cassaccia"! Virginia & her husband own and operate this lovely, cozy restaurant. We were glad to have whatever she suggested for lunch - Trofie pasta w/ green beans, potatoes & pesto, battered & fried artichoke hearts & califlower & dolchi vino - and felt we had met a new friend. Virginia was just a lovely person! We continued on our way on twisting, pin-curl roads, down the mountainside to . . .
MONTERROSO AL MARE
Monterroso al Mare is the only one of the five lands, that you can drive to in a car. The Cinque Terra region, consists of 5 towns built on cliff edges looking out over the Ligurian Sea. Stone trails lead from town to town. Also, regular train service is operated through the mountians inland (behind the cities) to carry passengers to the towns. Once you make it down the steep, twisted road to Monterosso al Mare, you park in the public, gated lot, and either walk or take a taxi to your hotel. We stayed at the Hotel Porto Roca, built on a cliff directly over the Lugurian Sea. The view is breathtaking. Breakfast is served in the Restaurant overlooking the Sea each morning.
Our first morning out to explore this region, we boarded the wrong train, taking the direct train to La Spezia, past the cities we came to see! We bought return tickets (200ITL = about $1) & hopped back on the train to Riomaggiore. In Riomaggiore, we walked around town, met a lovely woman named Helen from the Seattle area, who moved there about 5 years ago after retiring. She introduced us to her friend, who created lovely hand painted pottery. Helen took us on a scenic path to train station (to buy continuing tickets), gave us much information and told us of her life there. (see Travel Tips).
We hiked (about 30 mins) to Manarola & met the pottery artist's (from Riomaggiore) boyfriend (a climber who has climed Sentinel, Half Dome & El Capitan in Yosemite). We bought a hand painted plate from him & he gave Scot a plaque of a climber he had made. Very nice!
Shooting photos on our way to Corniglia and looking back at Manarola, the sun was so lovely we had to stop & shoot. We decided it was getting too dark to continue so we went back to Manarola to catch the train to Montorrosso. In retrospect, we should have stayed, shot, eaten dinner, then taken the train back. (see Travel Tips) (The hike from Manarola to Corniglia is about 45 mins)
The next day we took the train to Corniglia. FYI - Corneglia is quite a hike from the train station (those with knee problems might skip Corniglia - it takes nearly 400 stair steps to get there)
We continued on to Vernazza (about 2 hour hike), shooting back at Corniglia until we rounded the corner and saw Vernazza! This town's "Governor of Good Taste" has done a great job overseeing the painting of the building - it is "bella"! You can not help but love Scot's photo of this lovely town! (HOTLINK to PHOTO) We continued into the city. Since all the restaurants were closed (it's 3:00 p - Chuiso/Closed) we had foccocia & acqua naturale (water without gas). We stayed in Vernazza for sunset and had a wonderful dinner of fresh local fish. We took the train back to Monterrosso & climbed the hill to bed. (To hike from Vernazza to Monterosso al Mare takes about 90 mins.)

ROME

After breakfast in our hotel, we drove 4 hours to Rome, going directly to the FCO Airport Hilton to check in, return the rental car, then we caught the fast train into Rome (See Travel Tips). We walked around a bit, absorbing this large city, but found it difficult to catch the fast pace of this city after such a laid back vacation.

Back to Dallas.
ALSO SEE: Italy Travel Tips, Italian Food Translator, Italian Expressions
OTHER HELPFUL SITES:
Language Translator Site
Currency Exchange Site
Train Schedules
Sun to Moon Gallery
1515 Levee Street
Dallas, TX 75207
Phone 214.745.1199