ITALY – ROME & TUSCANY
To be totally fair, I should warn you that we love smaller, more intimate villages where you get a feel for the spirit of the community. With that said, we LOVE to fly in and out of Rome's Leonardo da Vinci-Fiumicino Airport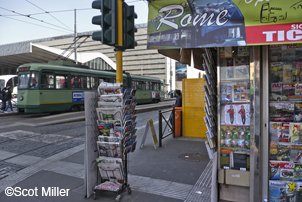 for many reasons, so our journey begins there.
Once you've landed in Rome, it is super easy to take the fast train, The Leonardo Express, from the airport to the city center train terminal, Roma Termini. TIP Go to the boarding area, to one of the ticket machines, select the train you want & swipe your credit card. Then go to one of the small square yellow (orangy-yellow) validating boxes, insert your ticket so it is date & time stamped, then you can board the train with a valid ticket.
Annulla – cancel transaction
Monette – coins in here
Banconote – paper money in here
Tessera Microchip – special card used to buy tickets
Help – speak to someone thru speaker on machine
We are big believers that reserving a room in Rome that is in city center, accessible to the train station, easy to get in and out of, and around the city, is very worthwhile. You will make up the difference in ground transportation, not to mention, it's the only way (my opinion) to see enough of Rome in a quick trip in & out of town.
So once you've made it to your hotel to check in, ask the desk clerk about half day city tours & book one. Then discuss with the desk clerk your next train travel. TIP You have arrived in Rome in the morning so day one's biggest challenge is staying awake & alert as long as possible to help acclimate to the time change, so that you will enjoy your whole trip. By now you have a list of sites that you want to see, in some sort of order, so find a half-day city tour that takes you to some of the lesser important sites. This will keep you awake, help acclimate you to the city and the language and take you places you already wanted to go without using your jetlagged brain. When you finish the tour, you can walk somewhere to grab a quick dinner, bottled waters, then walk back to your hotel to crash.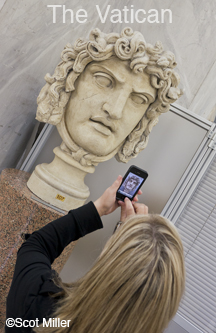 The next morning you will awake very early, which is perfect if you are going to Vatican City; this is the day to do it. Go get in line. A person could spend a whole day at Vatican City and not see everything, but it is visual overload so you probably won't spend a whole day there. And that leaves you time to hit the top remaining sites on your list!
TIP If you want to find a nice restaurant, like right here, right now, go into the closest nice hotel, to the lounge, sit at the bar, order a glass of wine and visit with the staff. They will be able to tell you of some place great very nearby.
At this point Scot & I take the train back to the airport to get our rental car. This is the other reason we love Rome's airport.; it is so easy to get to/from the train and to/from the rental cars, and once you get the car you will be on the AutoStrada in no time. TIP Use a GPS system. If you already own one, you can purchase an Italy map online and download it to your GPS before you leave the U.S. The time, energy, sweat & tears of traveling in another country will be eliminated (and it could just save a marriage!). You should have a good map for the country, even if you own your own GPS. Many rental car companies rent GPS systems.
TIP Before you go find a list of "Market Days" in the towns all around the area where you are; bookmark it online so you can refer to it quickly or you might create your own for the towns you will visit when you do not have internet access.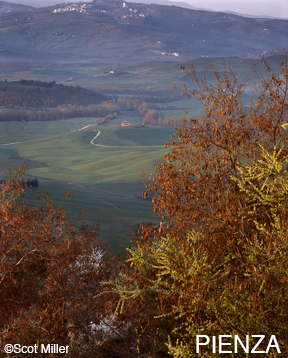 From Rome, we beeline for Pienza in southern Tuscany. It is a very charming town with a sweet community. We enjoyed the Lovers Lane, a lovely walk along the wall with a spectacular panoramic look out over the Tuscan countryside. Friday evening it seems the whole town is out for a stroll, wine, gelato & visit. Here are two great places for dinner:
Trattoria "Da Florella", Via Condotti 11, Pienza – our FAV is Risotto with Asparagus & Bacon served over a Parmesan crisp half bowl ~ Bella!

Latte di Luna – lovely dinner of Ensalad Mista, gnocci & beef
We take a day trip to Montalcino ~ one of our favorite walled, hilltop villages in Tuscany with great views! Of course, the drive was wonderful and full of spectacular vistas, the tall trees of Tuscany lining driveways, terra cotta villas with tile roofs on top of green rolling hills. Bellissimo!
We move on to Siena, considered the cultural center of Tuscany by many. TIP Carefully study the map of Siena before attempting to drive there, and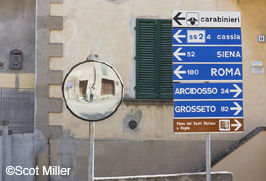 get directions from your hotel, paying attention to which highway should take to the city center. It is illegal to drive into certain entrances, besides being confusing and stressful once you get inside the walls; once your car is put away you will not need it again. A fab restaurant:
Antica Osteria da Divo, Via Franciosa 29, Siena ~ Fabulous dinner starting with bean soup with mini croutons, Zucchini squash blossom Risotto with Picorno Cheese, Grilled Pork, potatoes w/ truffle cream sauce, then Tortino Morbido de Cioccoloto (Chocolate Lava cake) w/ Hazelnut ice cream. OMG! Definitely need to walk afterward.
I love San Gimignano ~ the next time we will stay here instead of Siena, it's more chill. Here we find lovely hand painted linens, ceramics, dinner napkins, visiting with people along the way.
All for now ~ Enjoy. Ciao!
ALSO SEE: Italy Travel Tips, Italian Food Translator, Italian Expressions
OTHER HELPFUL SITES:
Language Translator Site
Currency Exchange Site
Train Schedules
Sun to Moon Gallery
1515 Levee Street
Dallas, TX 75207
Phone 214.745.1199